Fun Football Parties for Children 4-12yrs
A fun way to celebrate your child's birthday with family and friends
"Hi Darren, I just wanted to say thank you so much for a great party. Your sports coach Luke was excellent and all the parents commented on how good he was. He had all the boys completely under control and they thought he was great. He did a good mix of activities and they all got involved in everything. I would certainly recommend him and the company and I suspect some of the other mums and dads may give you call!" Thanks again, Mrs Hillman
1. Warm up game: 5min = Fox and Rabbits

2. Fun Game: Skill development: 10min = Hungry Hippo's coaching dribbling into space & tackling
3. Fun Game: Working with a partner skill development: 10min = playing the Simpsons. Coaching passing and controlling
4. Match: Playing 1v1, 2v2, 3v3. 4v4 etc. 20min: FA Cup Final, Champions League Final, World Cup Final.
5. Penalty Shootout: 10min. each child has 1 go in go and one penalty.
6. Award Ceremony: 5mins. each child is presented with a certificate and the birthday boy/girl is presented with a birthday medal.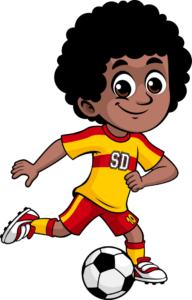 Other Types of Birthday Parties we Offer:
Click on the party photo below to view more information
To book or enquire about a birthday party please email us